Scheda Video SVGA EVGA GTX1050 2GB SSC Gaming ACX 3.0 02G-P4-6154-KR
Scheda Video SVGA EVGA GTX1050 2GB SSC Gaming ACX 3.0 Core 1544 MHz Memory 2GB GDDR5 DVI HDMI DP
ID:
1905
MODELLO:
02G-P4-6154-KR
NOME COMMERCIALE:
Scheda Video SVGA EVGA GTX1050 2GB SSC Gaming
EAN:
4250812416643
CONDIZIONE:
Nuovo
GARANZIA:
Fino a 24 mesi
(
condizioni di garanzia
)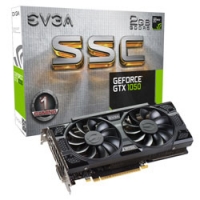 Frequenza Core
Oltre 1300MHz
The EVGA GeForce GTX 1050 hit the perfect spot for that upgrade you know you need, but at the price you want! With the latest NVIDIA Pascal architecture, the 2GB GTX 1050 displays stunning visuals and great performance at 1080p HD.

This card also features EVGA ACX 3.0 cooling technology. EVGA ACX 3.0 once again brings new and exciting features to the award winning EVGA ACX cooling technology. SHP gives increased heatpipes and copper contact area for cooler operation, and optimized fan curve for even quieter gaming. Of course, ACX 3.0 coolers also feature optimized swept fan blades, double ball bearings and an extreme low power motor, delivering more air flow with less power, unlocking additional power for the GPU.

If you�ve been waiting for that card that gives you the performance to take back the competitive edge, but without taking out your wallet, then the GTX 1050 is the card for you!
Specifications
Base Clock: 1430 MHZ
Boost Clock: 1544 MHz
Memory Clock: 7008 MHz Effective
CUDA Cores: 640
Bus Type: PCI-E 3.0
Memory Detail: 2048MB GDDR5
Memory Bit Width: 128 Bit
Memory Speed: 0.28ns
Memory Bandwidth: 112.16 GB/s
LED Logo: No
Dimensions
Height: 4.376in - 111.15mm
Length: 9in - 228.6mm
Width: Dual Slot
Key Features
NVIDIA GameStream Technology
NVIDIA G-SYNC Ready
OpenGL 4.5 Support
Simultaneous Multi-Projection
NVIDIA Ansel
NVIDIA GPU Boost 3.0
Microsoft DirectX 12
Vulkan API
PCI Express 3.0
Max Digital Resolution - 7680x4320
HDMI 2.0b, DisplayPort 1.4 and Dual-Link DVI
Built for EVGA Precision XOC
EVGA ACX 3.0 Cooling
Resolution & Refresh
Max Monitors Supported: 3
240Hz Max Refresh Rate
Max Digital: 7680x4320
Requirements
300 Watt or greater power supply.****
PCI Express, PCI Express 2.0 or PCI Express 3.0 compliant motherboard with one graphics slot.
Windows 10 32/64bit, Windows 8 32/64bit, Windows 7 32/64bit
Prodotto ancora non recensito.
Effettua il login per effettuare la prima recensione.