Scheda Madre Gigabyte H110M-S2H GA-H110M-S2H
Scheda Madre Gigabyte 1151 Socket 1151 Chipset Intel H110 DDR4 mATX
ID:
1757
MODELLO:
GA-H110M-S2H
NOME COMMERCIALE:
Scheda Madre Gigabyte H110M-S2H
EAN:
4719331837310
CONDIZIONE:
Nuovo
GARANZIA:

Fino a 24 mesi
(
condizioni di garanzia
)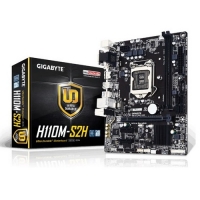 Output Video
VGA-DVI-HDMI
Processore

La Cache L3 varia da CPU a CPU
Support for Intel® Core™ i7 processors/Intel® Core™ i5 processors/Intel® Core™ i3 processors/Intel® Pentium® processors/Intel® Celeron® processors in the LGA1151 package

(Please refer "CPU Support List" for more information.)

Chipset

Intel® H110 Express Chipset

Memoria

* Due to a Windows 32-bit operating system limitation, when more than 4 GB of physical memory is installed, the actual memory size displayed will be less than the size of the physical memory installed.
2 x DDR4 DIMM sockets supporting up to 32 GB of system memory
Architettura di memoria a doppio canale
Support for ECC UDIMM 1Rx8/2Rx8 memory modules (operate in non-ECC mode)
Support for non-ECC UDIMM 1Rx8/2Rx8/1Rx16 memory modules
Support for DDR4 2133 MHz memory modules

((Per maggiori informazioni fare riferimento alla Lista di memorie compatibili))

Grafica integrata
Integrated Graphics Processor - Intel® HD Graphics support:

1 x D-Sub port, supporting a maximum resolution of 1920x1200@60 Hz
1 x DVI-D port, supporting a maximum resolution of 1920x1200@60 Hz
* The DVI-D port does not support D-Sub connection by adapter.
1 x HDMI port, supporting a maximum resolution of 4096x2160@24 Hz
* Support for HDMI 1.4 version.

Support for up to 2 displays at the same time

Maximum shared memory of 512 MB

Audio

Audio ad alta definizione
Supporta uscite S/PDIF
Audio a 2/4/5.1/7.1 canali
*To configure 7.1-channel audio, you have to use an HD front panel audio module and enable the multi-channel audio feature through the audio driver.
Realtek® ALC887 codec

LAN

Realtek® GbE LAN chip (10/100/1000 Mbit)

Slot di Espansione

(The PCI Express x16 slot conforms to PCI Express 3.0 standard.)
1 x PCI Express x16 slot, running at x16 (PCIEX16)
2 x PCI Express x1 slots
(All of the PCI Express x1 slots conform to PCI Express 2.0 standard.)

Interfaccia di storage
Chipset:

4 x SATA 6Gb/s connectors

USB
Chipset:

4 x USB 3.0/2.0 ports (2 ports on the back panel, 2 ports available through the internal USB header)
8 x USB 2.0/1.1 ports (4 ports on the back panel, 4 ports available through the internal USB headers)

Connettori Interni I/O

1 Connettore di Alimentazione ATX ad 8-pin
1 Connettore per Ventola della CPU
1 Connettore per Pannello Frontale
1 Connettore di Alimentazione ATX a 24-pin
1 Connettore per uscite Audio Frontali
4 Connessioni SATA 6Gb/s
1 Connettore per porte USB 3.0/2.0
1 x Connettore per System Fan
2 x Connettori USB 2.0/1.1
1 Porta seriale
1 x Clear CMOS jumper
1 x S/PDIF Out header
1 x Trusted Platform Module (TPM) header

Pannello Posteriore I/O

4 x USB 2.0/1.1 ports
2 x USB 3.0/2.0 ports
1 Porta HDMI
1 x PS/2 mouse port
1 x PS/2 keyboard port
1 Porta RJ-45
1 x Porta D-Sub
1 x Porta DVI-D
3 x audio jacks (Line In, Line Out, Mic In)

I/O Controller
Monitoraggio H/W

Rilevamento della velocità di rotazione della ventola della CPU e del Sistema
CPU/System fan speed control
Allarme per il malfunzionamento della ventole della CPU e del sistema
CPU/System overheating warning
Rilevamento dei voltaggi del sistema
*Whether the fan speed control function is supported will depend on the cooler you install.
Rilevamento delle temperature di CPU e di Sistema

BIOS

1 x 64 Mbit flash
Use of licensed AMI UEFI BIOS
PnP 1.0a, DMI 2.7, WfM 2.0, SM BIOS 2.7, ACPI 5.0

Altre Caratteristiche

Support for Smart Switch
Support for Xpress Install
Supporta il Q-Flash
Support for APP Center
* Available applications in APP Center may differ by motherboard model. Supported functions of each application may also differ depending on motherboard specifications.
Auto Green
Support for Cloud Station
@ BIOS ™
EasyTune
USB Blocker
Smart TimeLock
Fast Boot
System Information Viewer
3D OSD
Smart Keyboard
Smart Backup

Software in Bundle

cFosSpeed
Norton® Internet Security (OEM version)

Sistema Operativo

Support for Windows 10/8.1 64-bit
Support for Windows 7 32-bit/64-bit
* Please download the "Windows USB Installation Tool" from GIGABYTE's website and install it before installing Windows 7.

Caratteristiche Fisiche

Micro ATX Form Factor; 22.6cm x 17.4cm

Note

Most hardware/software vendors may no longer offer drivers to support Win9X/ME/2000/XP. If drivers are available from the vendors, we will update them on the GIGABYTE website.

A causa delle diverse condizioni di supporto per Linux fornito da fornitori di chipset, scaricare il driver Linux dal sito web fornitori di chipset.
Prodotto ancora non recensito.
Effettua il login per effettuare la prima recensione.