Asus Transformer Book T302CA-FL010R 90NB0B51-M01260
Tablet Asus Transformer Book T302CA-FL010R 12.5" FullHD Intel Core M3 RAM 8GB SSD128GB Windows 10 Pro
ID:
1568
MODELLO:
90NB0B51-M01260
NOME COMMERCIALE:
Asus Transformer Book T302CA-FL010R
EAN:
4712900424706
CONDIZIONE:
Nuovo
GARANZIA:

Fino a 24 mesi
(
condizioni di garanzia
)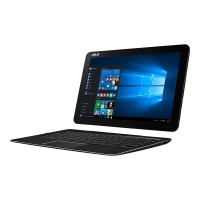 Versione Sistema Operativo
Windows 10
ASUS Transformer Book T302CA-FL010R. Tipo di prodotto: Ibrido (2 in 1), Colore del prodotto: Nero, Fattore di forma: Convertibile (rimovibile). Frequenza del processore: 0,9 GHz, Famiglia processore: Intel Core M, Processore: m3-6Y30. RAM installata: 8 GB, Tipo di RAM: DDR3L-SDRAM, Velocità memoria: 1600 MHz. Capacità totale hard disk: 128 GB, Supporto di memoria: SSD, Capacità SSD: 128 GB. Dimensioni schermo: 31,8 cm (12.5''), Risoluzione: 1920 x 1080 Pixels, Tipologia HD: Full HD


Design
Tipo di prodotto
Ibrido (2 in 1)
Colore del prodotto
Nero
Fattore di forma
Convertibile (rimovibile)
Processore
Frequenza del processore
0,9 GHz
Famiglia processore
Intel Core M
Processore
m3-6Y30
Frequenza del processore turbo massima
2,2 GHz
Numero di core del processore
2
Numero di threads del processore
4
Cache processore
4 MB
Tipo di cache del processore
Smart Cache, L3
Socket processore
BGA1515
PCI Express slots version
3.0
Numero massimo di corsie Express PCI
10
configurazione PCI Express
1x2+2x1, 2x2, 1x4, 4x1
Thermal Design Power (TDP)
4,5 W
Serie di processore
Intel Core m3-6Y series
Tjunction
100°C
Modalità di funzionamento del processore
32-bit, 64-bit
Litografia processore
14 nm
Stepping
D1
Nome in codice del processore
Skylake
Processore (da zone) Conflict free
Memoria interna massima supportata dal processore
16 GB
Tipologie di memoria supportati dal processore
DDR3L-SDRAM, LPDDR3-SDRAM
Velocità memory clock supportate dal processore
1866, 1600 MHz
Banda di memoria supportata dal processore (max)
29,8 GB/s
Canali di memoria supportati dal processore
Doppio
ECC supportato dal processore
Memoria
RAM installata
8 GB
Tipo di RAM
DDR3L-SDRAM
Velocità memoria
1600 MHz
RAM massima supportata
8 GB
RAM massima supportata (64-bit)
8 GB
Fattore di forma memoria
On-board
Supporti media
Capacità totale hard disk
128 GB
Supporto di memoria
SSD
Numero di SSD installati
1
Capacità SSD
128 GB
Interfaccia Solid State Drive (SSD)
Serial ATA III
Lettore di schede integrato
Tipi schede di memoria
SD, SDHC, SDXC
Display
Dimensioni schermo
31,8 cm (12.5")
Risoluzione
1920 x 1080 Pixel
Touch screen
Retroilluminazione a LED
Tipologia HD
Full HD
Superficie display
Lucida
Formato
16:9
Tecnologia touch
Multi-touch
Tipologia touch screen
Capacitivo
Grafica
Modello scheda grafica integrata
Intel HD Graphics 515
On-board graphics adapter base frequency
300 MHz
Number of displays supported by on-board graphics adapter
3
On-board graphics adapter dynamic frequency (max)
850 MHz
Memoria massima dell'adattatore della scheda grafica installata
1,74 GB
Scheda grafica dedicata
On-board graphics adapter OpenGL version
4.4
On-board graphics adapter DirectX version
12
ID dell'adattatore della scheda grafica installata
0x191E
Drive ottico
Tipo drive ottico
Audio
Sistema audio
SonicMaster
Numero di altoparlanti incorporati
2
Microfono incorporato
Macchina fotografica
Fotocamera frontale
Risoluzione fotocamera frontale (numerico)
0,92 MP
Risoluzione fotocamera frontale
1280 x 720 Pixel
Networking
Bluetooth
3G
4G
Wi-Fi
Standard Wi-Fi
IEEE 802.11a, IEEE 802.11ac, IEEE 802.11b, IEEE 802.11g, IEEE 802.11n
Collegamento ethernet LAN
Velocità trasferimento Ethernet LAN
10, 100, 1000 Mbit/s
Versione Bluetooth
4.1

Connettività
Quantità porte USB 2.0
1
Quantità di porte USB 3.0 (3.1 Gen 1) di tipo A
1
Quantità di porte USB 3.0 (3.1 Gen 1) di tipo C
2
Porta DVI
Quantità porte Ethernet LAN (RJ-45)
1
Quantità porte Thunderbolt
1
Jack combinato per microfono/auricolare
Connettore docking
DC-in jack
Tastiera
Dispositivo di puntatura
Touchpad
Tastiera numerica
Tasti Windows
Software
Sistema operativo incluso
Windows 10 Pro
Trial software
Microsoft Office
Caratteristiche speciali del processore
Intel® Wireless Display (Intel® WiDi)
Intel® 64
Execute Disable Bit
Idle States
Tecnologia Thermal Monitoring
Processor ARK ID
88198
Codice del processore
SR2EN
Versione della Tecnologia Intel® Smart Response
1.00
Versione della Tecnologia Intel® Secure Key
1.00
Versione Intel® Small Business Advantage (SBA)
1.00
Tecnologia Intel® Virtualization (VT-x)
Intel® Virtualization Technology for Directed I/O (VT-d)
Versione Intel® TSX-NI
1.00
Istruzioni supportate
SSE4.1, SSE4.2, AVX 2.0
CPU configuration (max)
1
Embedded options available
Grafica & litografia IMC
14 nm
Dimensione della confezione del processore
20
Intel® Clear Video Technology for MID (Intel® CVT for MID)
Tecnologia potenziata Intel SpeedStep
Intel® My WiFi Technology (Intel® MWT)
Intel® Clear Video HD Technology (Intel® CVT HD)
Tecnologia Intel® Clear Video
Tecnologia Intel® Quick Sync Video Technology
Intel® Insider™
InTru™ 3D Technology
Intel® Smart Response Technology
Tecnologia Intel® Turbo Boost
2.0
Intel® Hyper Threading Technology (Intel® HT Technology)
Intel® vPro™ Technology
Intel® Small Business Advantage (Intel® SBA)
Intel® VT-x with Extended Page Tables (EPT)
Intel® Enhanced Halt State
Intel® Secure Key
Intel® OS Guard
Intel® Software Guard Extensions (Intel® SGX)
1
Tecnologia Intel® Trusted Execution
Intel® Stable Image Platform Program (SIPP)
Intel® Flex Memory Access
Intel® Smart Cache
Intel® AES New Instructions (Intel® AES-NI)
Batteria
Numero di celle della batteria
2
Gestione energetica
Adattatore dissipazione di potenza AC
45 W
Adattatore di frequenza AC
50/60 Hz
Adattatore di voltaggio input AC
100 - 240 V
Adattatore di corrente output AC
2,37 A
Adattatore di voltaggio output AC
19 V
Dimensioni e peso
Peso
1,45 kg
Larghezza
31,7 cm
Profondità
19,1 cm
Altezza (anteriore)
7,6 mm
Altezza (posteriore)
1,65 cm
Peso (modalità tablet)
720 g
Larghezza (modalità tablet)
31,7 cm
Profondità (modalità tablet)
7,6 mm
Altezza (modalità tablet)
19,1 cm
Packaging
Pennino
Manuale dell'utente
Adattatore AC/DC
Prodotto ancora non recensito.
Effettua il login per effettuare la prima recensione.