Sapphire Radeon R7 240 1GB GDDR5 11216-01-20G
Scheda Video Sapphire Radeon R7 240 with Boost 1GB GDDR5
ID:
1467
MODELLO:
11216-01-20G
NOME COMMERCIALE:
Sapphire R7 240 1G D5
EAN:
4895106267893
CONDIZIONE:
Nuovo
GARANZIA:

Fino a 24 mesi
(
condizioni di garanzia
)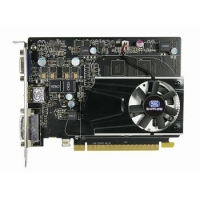 Famiglia
AMD Radeon R7 200 Series
Frequenza Core
Fino 900MHz
Clock Memoria
Da 2.0GHz a 5.0GHz
GPU320 Stream Processors
28 nm
Graphics Core Next (GCN)
730 MHz Engine Clock
780 MHz Boost Engine ClockInterfacePCI-Express 3.0Memory128 bit Memory Bus
GDDR5 Memory Type
4600Mbps Effective Memory Clock
1024 MB SizeBIOS SupportLegacy BIOS
DisplaysMaximum 2 OutputsOutput1 x Dsub
1 x DVI-D
1 x HDMI
Resolution4096x3112 HDMI ResolutionAPIOpenGL® 4.4
OpenCL 1.2
DirectX® 12
Shader Model 5.0FeatureAMD CrossFire
AMD HD3D Technology
Universal Video Decoder (UVD)
Cooling
Form Factor1 Part Slot Occupied
150(L)X105(W)X15(H) Dimension /mmPower ConsumptionCD-ROM or DVD-ROM drive for installing software
PCI Express® 2.0 or higher version based PC is required with one X16 lane graphics slot available on the motherboard in order for the card to be compatible with.
Accessory
Prodotto ancora non recensito.
Effettua il login per effettuare la prima recensione.