Scheda video Sapphire R9 NANO 4G HBM 21249-00-40G
Scheda Video Sapphire R9 NANO 4G HBM PCI-E HDMI/TRIPLE DP
ID:
1465
MODELLO:
21249-00-40G
NOME COMMERCIALE:
Sapphire R9 NANO 4G HBM
EAN:
4895106277205
CONDIZIONE:
Nuovo
GARANZIA:

Fino a 24 mesi
(
condizioni di garanzia
)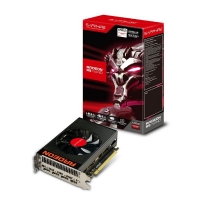 Famiglia
AMD Radeon R9 NANO
Frequenza Core
Da 902 a 1100MHZ
Clock Memoria
Da 2.0GHz a 5.0GHz
GPU
4096 Stream Processors
28 nm
Graphics Core Next (GCN)
1000 MHz Engine Clock
Interface
PCI-Express 3.0
Memory
4096 bit Memory Bus
HBM Memory Type
Up to 1000 MHz, Effective Memory Clock
4096 MB Size
BIOS Support
Legacy BIOS
Displays
Maximum 4 Outputs
Output
1 x HDMI
3 x DisplayPort
Resolution
4096X2160 Pixel DisplayPort Resolution
2160P HDMI Resolution
API
OpenGL® 4.5
OpenCL 1.2
DirectX® 12
Shader Model 5.0
Feature
AMD CrossFire
AMD PowerTune
AMD ZeroCore Power Technology
FreeSync Technology
AMD Eyefinity
Quad HD Display (4K*2K Support)
AMD HD3D Technology
AMD Liquid VR Technology
AMD Virtual Super Resolution(VSR)
AMD TrueAudio Technology
Universal Video Decoder (UVD)
Cooling
Single fan
Form Factor
2 Part Slot Occupied
158(L)X 111(W)X 37(H) Dimension /mm
Power Consumption
<175W
OS
Windows 10 Windows 8/8.1 Windows 7 
System Requirement
1 x 8-pin AUX Power Connector
CD-ROM or DVD-ROM drive for installing software
PCI Express® 2.0 or higher version based PC is required with one X16 lane graphics slot available on the motherboard in order for the card to be compatible with.
Prodotto ancora non recensito.
Effettua il login per effettuare la prima recensione.