Masterizzatore Lite-On iHAS324
Masterizzatore DVD Lite-On iHAS324
ID:
1319
MODELLO:
IHAS324-17
NOME COMMERCIALE:
Lite-On iHAS324
EAN:
4718390027458
CONDIZIONE:
Nuovo
GARANZIA:
Fino a 24 mesi
(
condizioni di garanzia
)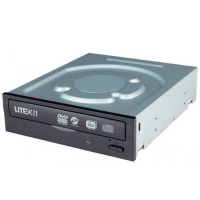 MAX Velocità Scrittura (CD)
48X
MAX Velocità Lettura (CD)
48X
Masterizzatore DVD Lite-On iHAS324
Serial ATA (SATA) connectivity

Support Features

Higher transfer rates with SATA connection (compared to PATA)

Future proof; compatibility with the latest motherboards

Better airflow in PC casings due to smaller cable and plug sizes

SATA supports "hot swap"(must be supported by your motherboard)

Use your drive for any purpose with the media you desire (including CD-R, CD±RW, DVD±R, DVD±RW, DVD±R DL format discs

Purchase your media without hassle; you no longer have to worry about compatibility

SMART-BURN

Smart-X

It can automatically adjust writing strategy & running OPC to provide the best burning quality and avoid Buffer Underrun error as well.

SMART-X(*2) function adjusts CD-DA / VCD / DVD data extraction to a fastest allowable speed according to both data request rate from host and disc quality.

ABS System

ABS system reduce vibration and noise during recording and reading.
DVD Family
Write Speed

DVD+R
DVD-R
DVD+R DL
DVD-R DL

24X* maximum
24X* maximum
8X maximum
8X maximum

Read Speed
ReWrite Speed

DVD+RW
DVD-RW
8X maximum
6X maximum

Random Access Time
CD Family
Write Speed
Read Speed
ReWrite Speed
Random Access Time
PC Required
1GHz or faster CPU recommended.
Windows 8 requires SSE2, PAE and NX-bit Support.
1GB RAM and 16GB free disk space required under 32-bit OS ( 2GB RAM and 20GB space under 64-bit OS ) for creating DVD Disc.
Available SATA port required.
Compatibility
DOS 6.xx, Windows 8 / Windows 7 / XP / 2003 / Vista and Linux operating system
Environment

Operating
Non-Operating
5°c to 50°c; Relative Humidity 20% to 80%
-40°c to 65°c; Relative Humidity 5% to 90%

Dimensions
146(W) X 41.3(H) X170(D) mm
Weight
Prodotto ancora non recensito.
Effettua il login per effettuare la prima recensione.