CPU Intel Xeon E5-2630 v4 BX80660E52630V4
CPU Intel Xeon E5-2630 v4 Socket 2011-3 25MB Cache 3.1GHz Retail
ID:
1209
MODELLO:
BX80660E52630V4
NOME COMMERCIALE:
Intel Xeon E5-2630 v4
CONDIZIONE:
Nuovo
GARANZIA:
Fino a 24 mesi
(
condizioni di garanzia
)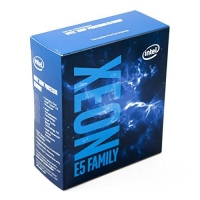 Frequenza Base
Da 2.0GHz a 3.0GHz
Frequenza Turbo
Da 3.0GHz a 4.0GHz
CPU 2011-v3 Intel Xeon E5-2630 v4
General information
Type CPU / Microprocessor
Market segment Server
Family Intel Xeon E5-2600 v4
Model number E5-2630 v4
CPU part numbers
CM8066002032301 is an OEM/tray microprocessor
BX80660E52630V4 is a boxed microprocessor
Frequency 2200 MHz
Turbo frequency 3100 MHz
Bus speed 8 GT/s QPI (4000 MHz)
Clock multiplier 22
Package 2011-land Flip-Chip Land Grid Array
Socket Socket 2011-3 / R3 / LGA2011-3
Size 2.07" x 2.01" / 5.25cm x 5.1cm
S-spec numbers
ES/QS processors Production processors
Part number QKET QKRH SR2R7
BX80660E52630V4 +
CM8066002032301 + + +
Architecture / Microarchitecture
Microarchitecture Broadwell
Platform Grantley-EP
Processor core Broadwell-EP
Core stepping R0 (QKET, QKRH, SR2R7)
CPUID 406F1 (QKET, QKRH)
Manufacturing process 0.014 micron
Data width 64 bit
The number of CPU cores 10
The number of threads 20
Floating Point Unit Integrated
Level 1 cache size 10 x 32 KB 8-way set associative instruction caches
10 x 32 KB 8-way set associative data caches
Level 2 cache size 10 x 256 KB 8-way set associative caches
Level 3 cache size 25 MB 20-way set associative shared cache
Physical memory 1536 GB
Multiprocessing Up to 2 processors
Features
MMX instructions
SSE / Streaming SIMD Extensions
SSE2 / Streaming SIMD Extensions 2
SSE3 / Streaming SIMD Extensions 3
SSSE3 / Supplemental Streaming SIMD Extensions 3
SSE4 / SSE4.1 + SSE4.2 / Streaming SIMD Extensions 4
AES / Advanced Encryption Standard instructions
AVX / Advanced Vector Extensions
AVX2 / Advanced Vector Extensions 2.0
BMI / BMI1 + BMI2 / Bit Manipulation instructions
F16C / 16-bit Floating-Point conversion instructions
FMA3 / 3-operand Fused Multiply-Add instructions
EM64T / Extended Memory 64 technology / Intel 64
NX / XD / Execute disable bit
HT / Hyper-Threading technology
VT-x / Virtualization technology
VT-d / Virtualization for directed I/O
TBT 2.0 / Turbo Boost technology 2.0
TXT / Trusted Execution technology
Low power features Enhanced SpeedStep technology
Integrated peripherals / components
Integrated graphics None
Memory controller The number of controllers: 1
Memory channels: 4
Supported memory: DDR4-1600, DDR4-1866, DDR4-2133
Maximum memory bandwidth (GB/s): 68.3
ECC supported: Yes
Other peripherals
Direct Media Interface 2.0
Quick Path Interconnect (2 links)
PCI Express 3.0 interface (40 lanes)
Electrical / Thermal parameters
Maximum operating temperature 74°C
Minimum power dissipation 35 Watt (C1E state)
12 Watt (C6 state)
Thermal Design Power 85 Watt
Notes on Intel Xeon E5-2630 v4
The processor has the following security, data protection and/or software features: Intel Secure Key, vPro technology and OS Guard.
Prodotto ancora non recensito.
Effettua il login per effettuare la prima recensione.