Dissipatore CPU Be Quiet! Dark Rock TF BK020
Dissipatore CPU Cooler Be Quiet! Dark Rock TF
ID:
1204
MODELLO:
BK020
NOME COMMERCIALE:
Be Quiet! DARK ROCK TF
EAN:
4260052184233
CONDIZIONE:
Nuovo
GARANZIA:
Fino a 24 mesi
(
condizioni di garanzia
)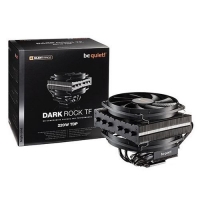 Categoria
Dissipatori CPU
Tipologia
Dissipatori ad Aria
Dimensione Ventole
135X135X22
Tec. ventole
Sleeve Bearing
CPU Cooler be quiet! Dark Rock TF
No Compromise Silence and Performance
Compact PCs pose significant design challenges, not least of which is how to quietly cool a high-performance, overclocked CPU in a cramped space. be quiet!'s Dark Rock TF offers a solution to this challenge.
This top-flow cooler with two powerful heat sinks is an extension of the well-established successful be quiet! product series Dark Rock and a compact cooling beast. It is designed to bring the famous be quiet! silent technology into your PC. With the best performance-to-noise ratio available in the compact cooler category, it strikes the perfect balance between cooling and serenity with absolutely no compromise in silence and performance.
Feature Details
Extreme Cooling Performance
Extremely high cooling capacity of 220W TDP supports even overclocked CPUs in compact PCs
Two powerful nickel-plated aluminum heat sinks
Six high-performance 6mm heat pipes with aluminum caps carry heat to the optimal location on the cooling fins
Top-flow layout enables ideal cooling not only for the CPU but also for surrounding components

Virtually Inaudible Operation
Two SilentWings® 135mm PWM fans featuring:

advanced fluid-dynamic bearing with copper core
advanced six-pole motor for smoother operation and less turbulence
nine airflow-optimized fan blades
dynamically-balanced impeller

Noise is a scant 26.7dB(A) even at 100% PWM function
Single fan assembly and operation also supported, offering further space savings and even quieter operations
Anti-vibration rubber inserts on the heat sink cooling fins further dampen noise

Product Conception, Design and Quality Control in Germany
Dark nickel-plated finish with brushed aluminum covers
Compatibility with all current Intel® and AMD™ sockets
3-years manufacturer's warranty
Quick support is available via our international hotline, Mondays to Fridays from 9:00am to 5:30pm (CET): +49 (0) 40-736 76 86 - 98
Overall dimensions without mounting material (L x W x H), (mm)
162.6 x 140 x 130.8
Overall noise level (
dB(A)
) @ 50/75/100% (rpm)
11.9 / 19.3 / 26.7
Dimensions (L x W x H), (mm)
162.6 x 140 x 108.8
Number of fins
top: 62 ; bottom: 64
Heatpipe number / Diameter (mm)
6 / 6
Surface treatment
Aluminum / Dark nickle-plated
Prodotto ancora non recensito.
Effettua il login per effettuare la prima recensione.